AC Spatial Design have been shortlisted for Living Space London Awards in The International Design and Architecture Awards 2022.
To fulfil the client's ambitious vision on a compact site, AC Spatial Design undertook a rigorous design and refinement process to complete the vision forming a balanced approach, the designers were determined to deliver a residence with generous proportions and carefully framed vistas befitting the leafy location. The carefully considered monochromatic palette became a guiding principle for the new gestures creating a curated home of subtle luxury and familiar comfort. 
The interiors throughout are methodically detailed and refined, fitting the rigorous geometry of the architecture while maintaining a timeless and essential aesthetic. Fine craftsmanship and careful material selection are evident upon entry, with Timber flooring by Bassano Parquet, bespoke joinery by Creatives Edge and stone cladding by Pietracasa. A sense of calm pervades the formal living area. Timber flooring by Bassano Parquet, Bespoke Joinery unit and furniture and rug by B&B Italia. Light by Flos.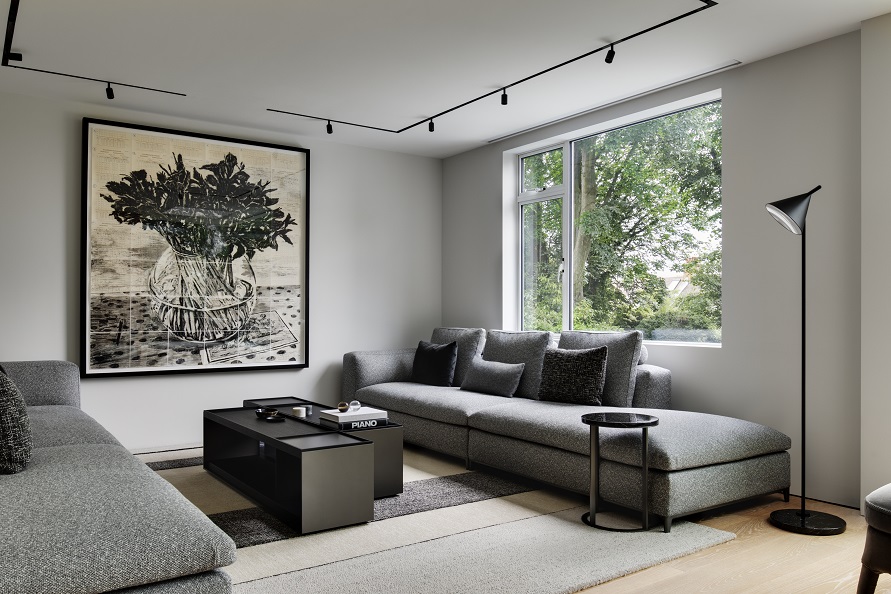 The house is filled with natural light, with glazed openings and light-toned windows treatments ensuring sunlight to illuminate the interior. Forming a base of clean lines and warm and textural timber underfoot, the floating staircase connects the levels, encouraging the eye upward. Furniture and lighting then act as the natural additions to the structure, drawing on a soft and desaturated palette of textured fabrics.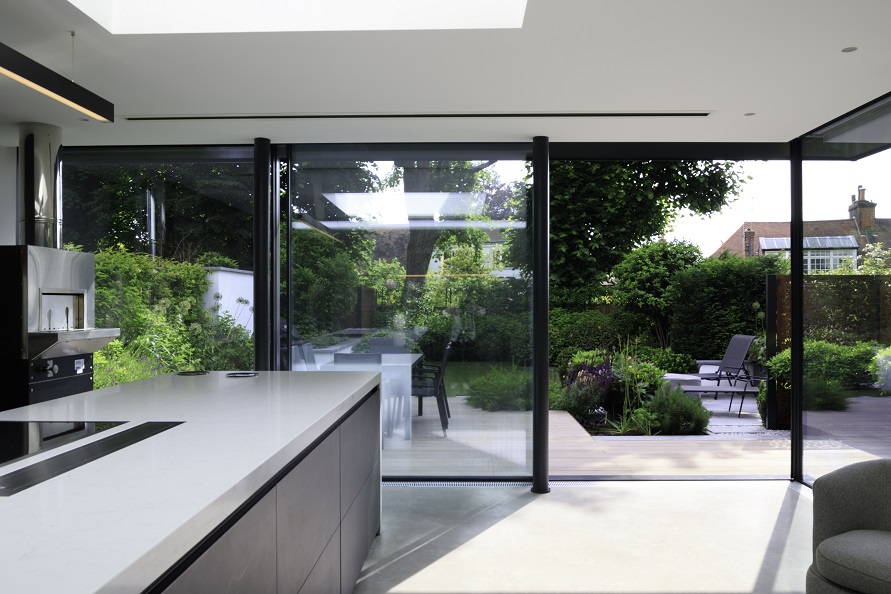 Ensuring an ingrained sense of flexibility in the planning of dining and kitchen area, and how each space connected and opened to the next – was key. A dividing door by IQ Glass is hidden into the Molteni & Dada kitchen units, planned by AC Spatial Design. Together, the transition between inside and out, and the potential for extend into the surrounding garden spaces, became an integral component of the new works. 
AC Spatial Design's vision was fully aligned with the client's requirements and needs to live in a house with a timeless and essential aesthetic. Through focusing on refinement and an enduring base, the Family House becomes the ideal base for its art-loving clients between London & Cape Town. 
---
design et al only work with the world's leading designers.
If you think you have what it takes to complete in The International Design & Architecture Awards, submit your application by clicking here.