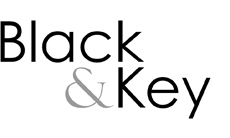 Website: www.blackandkey.co.uk
T: +44 (0)20 8741 8010
F: +44 (0)20 8741 9455
The Black & Key furniture and accessories collection is a synthesis of designs created over many years by award-winning designer Karin Verzariu, Member of the British Institute of Interior Design (BIID), for her international private clients. Karin brings 30 years' interior design experience to the collection.
Black & Key design and manufacture luxurious custom-made furniture and accessories for homes, boutique hotels, private yachts and executive offices in selected veneers, complemented by imaginative and unique inlays and details.
The bespoke furniture collection includes sideboards, chest of drawers, tables of all kinds including dining tables, chairs, a secretaire which can be adapted for a media cabinet or a bar, beds, ottoman and benches, as well as beautiful mirrors and exquisite pull handles.
The Black & Key collection is sourced by many internationally famous interior designers, architects and private clients, as it meets high expectations for quality and immaculate design.
Pieces from the collection can be found within some of London's leading hotels, such as Claridge's. Black & Key ship to clients in the UK and internationally.
CONTACT