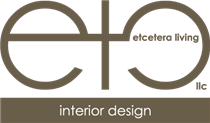 Villa 30, Street 10b,
Jumeirah 1
P.O. Box 75307
Dubai, United Arab Emirates
Website: www.etceteraliving.com
T +971 4 344 8868
F +971 4 344 6884
Email: info@etceteraliving.com
Etcetera has been established since 2003 and has grown along with Dubai.
From the very first meeting with the client to handover, Etcetera has a very hands-on approach and clients are involved in the process right the way through.
The team at Etcetera pride themselves on walking into an empty space and leaving it a warm and welcoming home. Specializing in luxury residential was the starting point and Etcetera has now evolved to incorporate more commercial projects. The Interior Design function at Etcetera Living was conceived by the owners own passion for beautiful design, functionality as well as luxury.
Etcetera Design creates homes not museums or 'hotel-rooms' (although we do that as well). When Etcetera Design takes on a new client we like to deal with the entire family to better understand all their individual needs, likes and dislikes. It is through this understanding we succeed in delivering beautiful homes time and time again.
We pride ourselves on utilising the space to create functional beautiful areas, which every client will be proud to call their own.
CONTACT